Lurk at Sokkvabbekk
Hosted by Lady Saga, Janurary 8, 1999
The evening began at 7:30, with hardy guests arriving despite the remains of a howling winter gale, courtesey of Lady Skadi. Those in attendance included King Siegfried, Odin, Warlord Sir Hagen, Lady Skuld, Thor, Heimdall, Raven, Prince Sir Fafnir, Prince Sir Rudiger, Lord Baldr, Lord Hodr, Lady Rossweisse, Marius, The Dark Elf, Lord Nidhogg, Lord Gerald, Grokk, Gronde the Red, Lady Fiorgyn, Lord Magni, and other members of the Kingdom.
Lady Saga prepared a feast consisting of Salad,Chicken, Honey Roasted Ham, Pasta Primavera, Roasted Potatoes, Bread, and Sausages (provided by Lord Magni). After the feast an Arm Wrestling Tournament was held which came down to Lord Magni versus his father Thor, God of Thunder. Thor was victorious despite the intense competition.
The tournament was followed by a game of "Pin the Mistletoe on Baldr" (a la "Pin the Tail on the Donkey".) To the horror of the company, Lord Hodr almost won, but the giant Grokk managed to pin his sprig of mistletoe closer to the heart, averting Ragnarok and winning the game.
A Bardic competition was next. Raven, Queen of the Dark Valkyries enchanted the audience with her dark poetry, then Lady Fiorgyn sang a sad song of star-crossed lovers. Next Prince Sir Fafnir related the tale of Thor's journey to Jotunheim, and Marius sang a silly song about a dragon hunt. Lady Saga (singing exhibition) concluded the competition with a lighthearted song about spousacide. Raven was declared the winner by the gods.
The final event of the evening was the court of King Siegfried, at which prizes were awarded to the victors of the evening's competitions and announcements were made about upcoming events.
The lurk was considered quite successful, and a good time was had by all!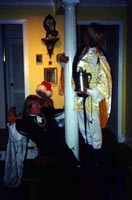 Click here for the Court transcript of this event.
Back to Events
Back to the Main Index