Allthing
Date: Saturday, April 27
Time: 12 noon
Location: Day: Antwerp Night: Needed. Please contact hagenheim@hotmail.com if you are willing to host the night event
Fees: None for the day. BYO everything. Evening fees dependant on above, TBA
Come one, come all to the 1st Annual Allthing! This will be a yearly Viking gathering to show off skills and goods in a carnival-like setting. Show off your strength and skill on the field, or show off your skills in the Arts and Sciences. Bring your own Barbeque Feast, as well as grills, charcoal and non-alcoholic drinks. No night site yet, open to suggestions!
Scheduled Activities:
12:00 Event opens. ½ hour Bear Pit Warm-up

12:30 A7S expo all day

1:00 ½ hour 2v 2 Bearpit Boffer

2:00 ½ hour Norse Wrestling Bearpit

3:00 ½ hour Arm Wrestling Bearpit

4:00 Rock Throw

4:30 Bellowing Contest

5:00 BBQ Feast (BYO grills & food). Open Skaldic during dinner.

6:30 Closing Court

7-7:30 Cleanup & Outlurk
Directions:
Antwerp is located on Great River Road in Great River.
From LIE:
Take Sagtikos Pkwy South to Southern State/ Heckscher Pkwy East. Take Montauk Hwy E. Make a right on Great River Road. See below.
From Sunrise:
Take Connetquot Ave South from Sunrise Hwy, continue South over Montauk Hwy. The road becomes Great River Rd. Continue south until you reach "Timber Point Country Club". Do not enter the country club, instead, make a left onto a dirt road and follow it around. You've arrived!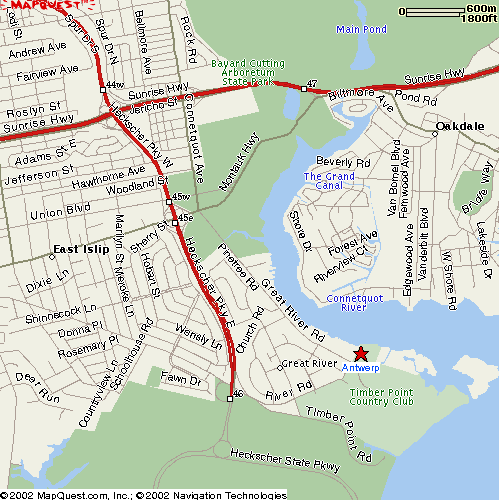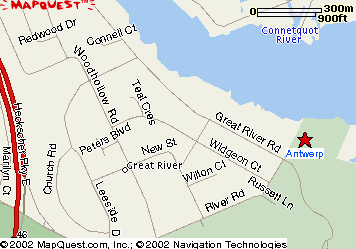 Maps gratefully borrowed from www.mapquest.com