Ice Follies IV /Jotenheim Juggernaut II
Date: Saturday, January 12, 2002
Where: Sayville Republican Club (Scroll down for Directions)
Time: 12:00pm ->
Hosted by: Count Master Master Fafnir, Lord of Ice, Ruler of the Jotens, and Jotenheim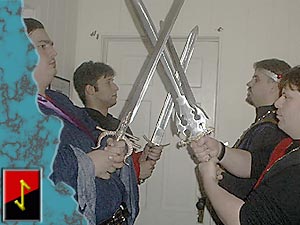 Day Events
The Ranking Tourney was postponed until Brokk's event. The Kingdom Champion Tourney was won by His Prominence, Count Dankwert der Verraterisch, who has returned to the realm with his household. A clever challenge tourney was also held, in which the competitors were bound hand to hand and leg to leg. The winners were CuChulainn and Alberich
Meanwhile, inside the hall, a Rune Craft Workshop was being taught by Saga. Nine people eagerly signed up for the class; His Regency Prince Sir Hagen, Lady Aisling, Count Fafnir, Goddess Hella, Magus Vermithrax, Valkyrie Reginleif, Allfather Odin, Priestess Urda, and Lord Forge. The students were given an introduction to the history, meaning and usage of runes, and then taught to write their names. While the class continued, many more people including the God Bragi and Count Sir Siegfried, pulled chairs near to listen and watch. Then the students were encouraged to design a Bind Rune and paint it upon a stone slab in imitation of Norse picture stones. Prince Sir Hagen was particularly pleased with his creation and displayed it proudly. The class ran long and the participants asked that it be continued at the next event.
The Feast was a catered affair. Master Alberich and the Jotens managed the serving. The first remove was salad, bread, and sandwich. The next was lasagna, spareribs, barbeque wings and sausage and peppers. There was soda to drink, but many people chose to bring their own beverages. Everything was lovely and relaxed and all seemed to be enjoying themselves. As a special treat, Cuchulainn performed an Irish War Dance to the utter delight of all.
Evening Events
The first entertainment was Win Bragi's Mead, which was written and performed by Saga and Bragi. The contestants were John Johnson, Valkyrie Reginleif and Lady Aisling. Aisling managed to hang on the longest, and tied Bragi for the win. Bragi graciously presented Prince Sir Hagen with his portion of the mead.

Joten Jeopardy
This challenging game was written and hosted by Fafnir and the Jotens. Three teams competed against each other. Team 1 was Odin, Reginleif, Vermithrax and [Alyssa]; Team 2 was Team 2 was as follows Joten Fasolt, John Johnson, Joten Forge, and Dankwert. Team 3 was Druid Nephastos, Cuchulainn, Zanthia, Lord (bardic guy-argh!) and as a late-game substitute, Saga. Team 1 seized the hotly contested victory!
Bardic Circle
Fine offerings and original songs were performed by Cuchulainn, Zanthia and their good friends.

CROWN PRINCE HAGEN'S FIRST CLOSING COURT
His Regency Prince Sir Hagen gave a State of the Kingdom Address. His Regency said that while the Kingdom has suffered a loss, we are stronger and more united than ever because of it. He bade us think upon the lessons of this loss; of the evils of greed and false pride. He admonished the populace to learn these lessons, and use them to band together and make 2002 the greatest year yet. He therefore issued this Edict: Be strong, without hurting others; Be proud, without stepping on others; be tolerant of the shortcomings of others; and be unified, but not at the expense of others. Prince Sir Hagen ended his remarks with a prayer that the Gods would watch over us all.
Following this address, the Champions of the day were congratulated, and thanks were given for all the help of the various volunteers. Many vivats. Other business:
Kingdom Champion Dankwert gave his oath to Goddess Mistress Syn along with House Verrat to act as her Champion in Sir Rudiger's stead.
Saga gave a bind-rune pendant to Prince Sir Hagen.
House Drankensgrab presented the Count Siegfried with "Thor, Frog of Thunder", and welcomed in Lady Seagram as a member.
Brokk invited all to his "Utgaard" event on January 26, to be held at the Republican Hall, and at which there shall be a Ranking Tourney, as well as the celebration of the handfasting of Vermithrax and Reginleif. Event cost: $15.
Prince Sir Hagen explained the new Senate and Royal Family System of Government to the populace.
Alberich was made a GIT of Asgard.
Dankwert sang a filk called "I Got Friends in Low Places" which lambasted some of those who were lately members of Uberheim.
Next, Squire Master Fasolt was called into court and Hagen told him he had no choice but to ask for his Squire's baldric back. Then guards were summoned and Fasolt dressed in a white robe, and led away to sit vigil for his knighting on the morrow.
Court Closed.
After-hours
Fasolt sat vigil in a chamber beautifully prepared with care by Dankwert. Peers visited with him through the night, while the rest of Uberheim reveled in the hall, feeling relaxed and happy.